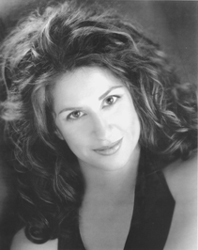 Soprano Gina Silverman's wide ranging musical passion and talent makes her at home on the concert stage, in the grand world of opera, in the intimate confines of art song, and in the frothy fun of musical comedy.
Since completing her education at the San Francisco Conservatory of Music ('98 Masters of Music in Vocal Performance) and at Stanford University ('94 Bachelor of Music with Honors in Vocal Performance and Bachelor of History), Gina has kept busy singing in the San Francisco Bay Area. Operatic appearances include Olympia (Tales of Hoffmann), Zerlina (Don Giovanni), Anne Trulove (The Rake's Progress) Adele (Die Fledermaus), and Barbarina (Le Nozze di Figaro) and a brief contract with the San Francisco Opera Chorus.
On the lighter side, Gina performed the delightful music of Gilbert & Sullivan's favorite heroines (including Maybel, Josephine, Yum-Yum, and Phyllis) with Savoy Express and local G&S companies, and recently returned to the world of musical comedy in the role of Ann (A Little Night Music).
Other Broadway roles include Sarah Brown (Guys & Dolls) and Rapunzel (Into the Woods). As a soloist, Gina has been featured in works such as the Mozart Requiem, the Fauré Requiem, Vaughan Williams' Dona Nobis Pacem, Mahler's 4th Symphony, and Beethoven's Choral Fantasy.
Gina currently teaches from her private studio in San Francisco.